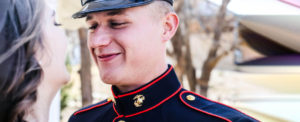 We Are Proud to serve the Men and Women of Camp LeJeune
As a member of the United States military, you understand dedication, determination, and sacrifice. We understand the impact an unplanned pregnancy can have on your life and your military career. The staff at Hope First is also dedicated. We're here to serve you during this overwhelming time in your life. If you just found out you or your partner are pregnant and you are in the military, you might be worried about how it could disadvantage you in terms of your future aspirations for promotion. It can be easy to fear the future without strong job security, and we understand those fears. Many of our staff have military experience and can show you how to navigate your current situation.
All of Our Services are Free and Confidential
An unplanned pregnancy is stressful enough. Getting answers and counsel should not be a financial burden or a privacy concern. All of our conversations and your test results will be kept in the strictest confidence. The following services are available to you at no cost:
We Are Here For You
At Hope First, we believe no one should have to face an unplanned pregnancy alone. There are times when a woman is left to deal with her pregnancy alone. The idea of having a baby without her husband by her side frightens her. Many members of our staff have had past military experience so we understand the specific questions and concerns you may have. If you think you may be pregnant, talk with us. We can confirm with free pregnancy testing and ultrasound, as well as discuss your future. Your dreams can still become a reality. Let us show you how!